3D modelling, simulation and visualization tools for wireless network planning and smart cities.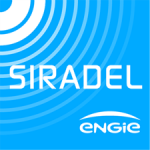 Siradel's is ICT's main partner for all radio planning mapping needs. Siradel provides the Digital Twin of territories and advanced network planning tools for the design of smarter wireless networks and the building of sustainable cities. With a unique combination of advanced technologies and expertise in data management, 3D modelling, simulation and visualization, Siradel develops a large set of software to optimize infrastructure networks and manage urban transformation projects with solutions in wireless connectivity, public lighting, CCTV, risk management, energy, mobility and more.
3D maps are produced from stereo pairs of high-resolution, most up-to-date satellite imagery with amazing accuracy and details. 3D maps are essential for improving Radio Planning and Optimization activities particularly for 4G and 5G urban and sub-urban outdoor and indoor environments. MATCELL provides unique GIS capabilities along with 3D data, and is able to swiftly classify indoor crowdsource data. Within the building boundaries, numerous stats can be calculated including: the number of unique points/samples, the mean, median & std, etc. for any network parameter. Each building classified based on coverage, performance, footfall, etc.